What Is Spondylolisthesis?
What Is Spondylolisthesis?
A spondylo-what?! Spondy-lo-lis-thesis is the forward displacement of a vertebra, especially the fourth or fifth lumbar vertebra, most commonly occurring after a fracture. Backward displacement is referred to as retrolisthesis. The vertebra "slips," most commonly in the lower back or lumbar spine. The amount of forward slip can vary from mild to severe. I see many women with this condition, due to severe "sway back" or too much curvature in the lower back. It is also a noted condition that occurs in many gymnasts or athletes who perform hyperextension maneuvers. Older adults can develop spondylolisthesis, because wear-and-tear on the back leads to stress fractures. It can also occur without stress fractures, maybe due to severe degenerative changes.
Symptoms include generalized lower back pain with intermittent shooting pain from the buttocks to the posterior thigh, or numbness and tingling in feet or lower leg via the nerve. Coughing and sneezing can intensify the pain. An individual might also note a "slipping sensation" when moving into an upright position. Sitting and trying to stand up might be painful and difficult. This condition is not necessarily reversible but needs to be managed in order to limit pain and further forward translation of the vertebra. Maintenance treatment is necessary to manage this condition.
Effective Treatment for Spondylolisthesis
Joint realignment or manipulation by a trained chiropractor • Muscle balance treatments to improve postural strains • Core strengthening • Natural anti-inflammatory such as Boswellia or turmeric • Ice packs for acute pain and hot packs for chronic pain • Electrical nerve stimula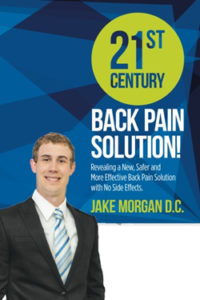 tion • Computerized spinal decompression therapy • Inversion therapy
Call today 325-695-9355 to  schedule your appointment. Our highly trained staff will take care of all your needs and they will get you scheduled for your exam.
Download your copy of my latest book!
Jake Morgan  DC
Request an Appointment