Inversion table—do they work?"
Inversion Tables
You may hate gravity, but gravity doesn't care.
A common query I get is, "Dr. Morgan, I feel better and want to stay this way. What can I do at home to help ease pain? My friend has an inversion table—do they work?" It depends on your condition and the type of inversion table. As a general rule, inversion therapy is useful for those who suffer from pinched nerves or nerve-based pain, bulging or herniated discs, and degenerative disc disease. I have patients who incorporate their treatments in our clinic and at-home inversion therapy with great success.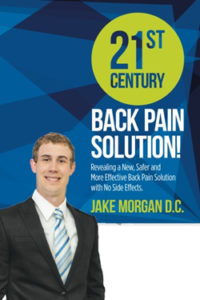 Inversion therapy acts in a similar manner as computerized spinal decompression therapy, which is utilized in our clinic every day. Inversion tables are not quite as effective or sophisticated as computerized spinal decompression therapy, due to the fact that you are not able to control the amount of weight that is being pulled on your spine and can place you back  in different positions, to properly  position you back depending  on the spinal condition that is causing pain. You also need to be in relatively good health, having the ability and mobility to maneuver yourself on the table.
An inversion table inverts the body into an upside-down or partial upside-down position. The idea behind this therapy is to reverse the effects of gravity, which can compress or squish the spinal discs or cushions that are in between the vertebrae.We discussed compressed disc and the impact it can have on your back pain in a earlier blog. The table allows you to stretch your spine out, providing room for discs to reabsorb fluids and move back into their proper positions.
There is only one inversion table I recommend, because it is the best I have found in the market. It is called the Total Back Solution Inversion Table My patients who are interested in inversion therapy take their health seriously and are willing to make a wise investment that pays in good-health dividends. You want a table that is high on quality and will last, and since you will be hanging upside-down, you want to be safe. This is why I will not recommend a lesser quality Inversion table. I only recommend a table that is only available to physicians, as many doctors use this as a therapy in their clinics. This table is the most durable on the market and has scientific studies to back up its effectiveness. I have chosen this particular inversion table because I know it to be durable, safe, and adjustable. The high-quality frame holds up to the weight of most individuals, and it has different settings so you can start self-treatment at different angles, gradually working to an upside-down position. I recommend starting at a 45-degree angle for only 10 minutes a day, since you need to give your body time to adjust to this new treatment. After five days, if you are comfortable with the 45-degree angle, then you may lower the settings to a higher angle and increase treatment time.
I made an oath to do no harm, and I consider my patients part of my extended family. These are the top three things I consider when I recommend this premium inversion table:
Safety—It must be of high quality. Has it been tested in independent studies?. Will it hold the weight of your body, time and time again? I guarantee that someone will see your inversion table and want to try it. If they are bigger than you, will it hold their body weight? Are there ergonomically molded ankle cushions so you do not develop pain at the ankles? If you decide to get an inversion table on your own, check the weight limit. Make sure the table has tough rubber nonskid floor stabilizers so the table does not slide or wobble.
Durability—I highly discourage a plastic-framed inversion table. You want a steel frame and high-grade back board that will not stretch or wear out over time.
Manageability—Are you physically able to handle the table on your own without assistance? You also need to be in relatively good health, having the ability and mobility to maneuver yourself on and off the table.
Inversion therapy is not recommended for uncontrolled blood pressure or hypertensive patients due to the fact that blood pressure increases as you hang upside-down. A better alternative is computerized spinal decompression therapy, as you do not have to lie upside down.
An inversion table is an investment you do not want to go cheap on, as it can save you a lot in future health-care costs. This piece of equipment will last you a lifetime if you make the right purchase. If you feel inversion therapy is right for you, ask me if you and your condition would benefit.
Contact my office today to get more information how we can help treat your pain. When you call tell the receptionist you want to come in for our NEW PATIENT SPECIAL.  Download your free copy of my latest book here!
Request an Appointment