How to get rid of Crippling Neck Problems
Which Of These Crippling Neck Problems Would You Like To Be Rid Of?
Serious and debilitating neck pain
Sharp, shooting pains in the shoulders and arms
Numbness and tingling in the arms and hands
Severe, chronic headaches
Herniated or Bulging Cervical Discs
Many doctors act like your options are limited with neck pain – bed rest, pain pills, steroid injections, and exercises.
They're wrong.
No matter where you are with neck pain, whether you're having unrelenting pain and facing surgery or you just injured it yesterday, a treatment called non-surgical spinal decompression may be the answer for you.
Nothing's worse than feeling great mentally, but physically feeling held back from life because your neck hurts and the pain just won't go away!
Sure, you can numb the pain if you take enough Vicodin, Soma or some other pill. But the real problem is while you make it through the day all "numbed up", you are likely injuring your neck even more…without knowing it.
Here's Proof This Treatment Works
While non-surgical spinal decompression has only been around a few years, there is plenty of research to back up its claims. Here's just a handful…
"We thus submit that decompression therapy should be considered first, before the patient undergoes a surgical procedure which permanently alters the anatomy and function of the affected lumbar spine segment."
– Journal Of Neuroscience Research
"86% of the 219 patients who completed the therapy reported immediate resolution of symptoms"
–  Orthopedic Technology Review
"vertebral axial [spinal] decompression was successful in 71% of the 778 cases"
– Journal of Neurological Research
"good to excellent" relief in 86% patients with Herniated discs"
–  The American Journal of Pain Management
"decompression therapy reported a 76.5% with complete remission and 19.6% with partial remission of pain and disability"
– Rio Grande Hospital, Department of Neurosurgery
As you can see, spinal decompression has a high success rate with helping disc herniations, pinched nerves, and severe pain. In just a matter of weeks you could be back on the golf course, enjoying your love life, or traveling again.
Spinal decompression treatments are very gentle. In fact, every once and awhile I even catch a patient sleeping during sessions.
You'll simply lie on your back, resting your head on a comfortable pad.. We'll set the computer to focus on your problem area – then the advanced computer system will do the rest.
Most patients feel better with just a few treatments, and best of all there will be…
No Dangerous Drugs, No Invasive Procedures, And No Painful Exercises.
My name is Dr. Jake Morgan, owner Advanced Chiropractic in Abilene. I understand what it feels like to live in pain, because I see it every day.
I've seen hundreds of people with neck pain, arm problems and headaches leave the office pain free.
I'm running a very special offer where you can find out if you are a candidate for spinal decompression
What does this offer include? 
An in-depth consultation about your health and well-being where I will listen…really listen…to the details of your case. A complete neuromuscular examination, full set of specialized x-rays (if necessary), and a thorough analysis of your exam and x-ray findings so we can start mapping out your plan to being pain free.
You'll get to see everything first hand and find out if this gentle treatment will be your neck pain solution, like it has been for so many other patients.
The normal price for this type of evaluation including x-rays is $225, so you're saving a considerable amount by taking me up on this offer.
Call today and we can get you scheduled for your consultation, exam and x-rays as soon as there's an opening.
When you call, tell the receptionist you'd like to come in for the Neck Pain Evaluation so she can record the date and give you proper credit for this special offer.
Sincerely,
P.S.  Before you go under the knife and opt for neck surgery, you should seriously consider this less invasive approach. Call 325-695-9355
I may be able to help you live a normal, pain-free life again!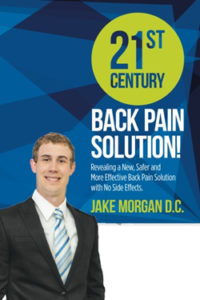 Download your copy of my book 21st 
Century Back Pain Solution!
Check out some of our Patient Testimonies!
Request an Appointment