Could This Non-Invasive, Natural Treatment Be The Answer To Your Shoulder Pain?
Could This Natural Therapy Used By Pro Athletes Be Your Shoulder Pain Solution?
If you're over the age of 30 and have rotator cuff problems, frozen shoulder, or arthritis, there is hope. A new treatment is helping patients increase shoulder strength, improve motion, and eliminate shoulder pain once and for all. Finally, you can be pain free again – even if you've got the most excruciating shoulder pain you have ever felt.
Does your shoulder pain build up when you move it wrong or is it a sudden sharp pain shooting from your neck into your arm?
Do you have difficulty just washing your hair or even scratching your back? Have you had to give up golf because of your shoulder pain?
Nothing's worse than feeling great mentally, but physically feeling held back from life because your shoulder hurts and the pain just won't go away!
Do You Have Any of the Following Conditions?
Frozen shoulder – one of the worst maladies known to man (and women!)
Adhesive capsulitis
Rotator cuff injuries
Arthritis
Bursitis and tendonitis
Muscle weakness
Sharp or shooting arm pains
If you are suffering from any of these problems, a new breakthrough in medical technology may completely eliminate your pain.
Finally, You Have A Proven Option Other Than Drugs And Surgery
New research in a treatment called low level laser therapy, or cold laser, is having a profound affect on patients suffering with shoulder pain. Unlike the cutting type of laser seen in movies and used in medical procedures, the cold laser penetrates the surface of the skin with no heating effect or damage.
Cold laser therapy has been tested for 40 years, had over 2000 papers published on it and been shown to aid in damaged tissue regeneration, decrease inflammation, relieve pain and boost the immune system. This means that there is a good chance cold laser therapy could be your shoulder pain solution, allowing you to live a more active lifestyle.  Professional athletes like Lance Armstrong and team members of the New England Patriots rely upon cold laser therapy to treat their sports-related injuries. These guys use the cold laser for one reason only…
It Promotes Rapid Healing Of The Injured Tissues.
Two landmark studies have proven the effectiveness of cold lasers.
The first study showed that patients who had cold laser therapy had 53% better improvement than those who just had a placebo. The second study showed patients who used the laser therapy had less pain and more range of motion days after treatment. If the cold laser can help these patients, it can help you too.
Could This Non-Invasive, Natural Treatment Be The Answer To Your Shoulder Pain?
I'm running a very special offer where you can find out if you are a candidate for cold laser therapy.
Just call here's what you'll get…
An in-depth consultation about your shoulder where I will listen…really listen.
A complete nerve, muscle and spinal exam to find the "cause" of your problem.
A full set of specialized x-rays  to look for joint degeneration (arthritis)
A thorough analysis of your exam and x-ray findings so we can determine if you're a candidate for cold laser therapy.
I'll answer all your most probing questions about the cold laser and what it can do for you. The appointment will not take long at all and you won't be sitting in a waiting room all day either.
To take me up on this special offer, you must call 325-695-9355.
Since the FDA cleared the first cold laser for treatment of shoulder pain in 2002, there has been only one warning – don't shine the laser in the eyes. Of course at our office the laser is never anywhere near your eyes, and we'll give you a comfortable pair of goggles for safety.
Call anytime between the hours of 8:00 am and 6:00 pm Monday through Friday.  Tell the receptionist you'd like to come in for the Special Shoulder Evaluation.
Look, you have very little to risk and a lot to gain. Call today and we can get started with your consultation, exam and x-rays as soon as there's an opening in the schedule. Our office is called Advanced Chiropractic & Spinal Rehab and you can find us at 4549 Catclaw Drive in Abilene,TX.
Sincerely,
Jake Morgan, D.C.
P.S. Pain in your shoulder isn't just a 'sign of old age'. If that was true all 360 joints in your body would hurt since you're whole body is the same age.
Pain is your body's way of telling you something is wrong.  Finding the problem and fixing it has got to be top priority!
Check our a few of our Patient Testimonies and don't forget to download your copy of my book 21st Century Back Pain Solution!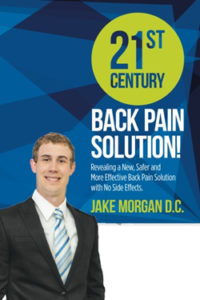 Request an Appointment