Are Sharp Stabbing or Grabbing Pain Stopping You in Your Tracks?
What Are Muscle Spasms?
Acute symptoms include severe sharp stabbing or grabbing pain that can stop you in your tracks or bring you to your knees. Chronic muscle spasms can be deep, dull, and unrelenting pain.
Muscle spasm pain can be a primary source of pain but often accompanies other conditions, such as joint misalignments, degenerative disc disease, or bulging discs, sometimes overlooked by medical professionals. You must work to solve the underlying problem if the underlying problem is causing the muscle spasm.
The muscles in your back are large and powerful. Muscle spasms can be categorized as chronic muscle spasms, which often includes what most patients describe as "my back is always so tight." Chronic muscle spasms are usually due to chronic repetitive strains from work demands or postural strains. The longer the muscles are stuck in a spasm or chronically tight, the increased risk of damage to your vertebrae, disc, and nerve function.
Acute muscle spasm usually occurs due to acute injuries, such as a whiplash injury, weekend warrior sports injuries, or lifting injuries. Sometimes you have torn connective tissue in your spine or the muscle itself, and the tightness is the muscle trying to protect itself. If acute injuries and muscle spasms are not treated properly, these muscles have a high probability of turning into chronic spasms, tightness, and pain.
SUCCESS CASE STUDY
Dan is a 40-year-old athlete who competes in marathons and triathlons…and will challenge you to a foot race if you look at him the wrong way. He trains hard and takes very good care of himself. He entered the clinic with pain in his lower back that limited his ability to stand in an upright position. He states that he just got off a 10-mile bike ride and started to jog when, after four steps, he had sudden severe lower back pain that brought him to a crawl. X-rays were taken, and he had no structural evidence of fractures, arthritis, or disc bulges. He did, however, have several misaligned vertebrae in his lower back, as well as severe muscle spasms in his lower back and hip flexor region, in a muscle called the "psoas." He had severe muscle imbalances in the hip flexor muscle, a muscle that attaches to the hip and lower back—it is responsible for bending your upper leg or flexing your upper leg toward your waist. This muscle was so tight after riding his bike that where the hip flexor muscle, or the psoas, was still very short and tight, it created a tug-of-war with the muscle in the lower back—and the muscles in the lower back lost. He had a quick recovery, as I expected. Being the competitive athlete, he never missed an appointment, was at the clinic early, and stayed late, always wanting to know more about how to treat his back. After a short six weeks, he was back to running and has learned to stretch his hip flexors often. He has added weekly chiropractic visits to his routine and has not had another back problem for two years and counting.
Effective Treatment for Muscle Spasms
Joint realignment or joint manipulation • Muscle balance therapy • Electrical muscle stimulation to ease muscle pain • Soft tissue manual therapies • Magnesium supplementation to help relax muscles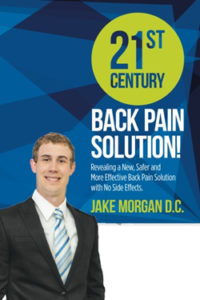 Just like Dan and hundreds of others we can help you get back to you every day life pain free!
PS. Download you copy of my latest book or stop by the office and pick up a copy.
Request an Appointment